Tim "Beaker" Behunin
Investigator/Videography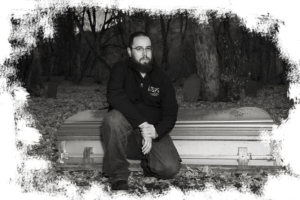 The paranormal has always been a part of Tim's life. His aunt passed when she was only 7 and has been watching over his father and his family ever since. So it comes as no surprise that he became involved with paranormal research.
Tim's involvement began when he realized that his long time friend Brandy also had the same interest in the paranormal. The two of them began to investigate together attending several public investigations. On one of their investigations they were teamed up with "Castle" the founder of Wisps. During this investigation Castle realized their skill set and asked them to join the team.
Since joining Wisps Tim has become one of the key members of the team. When he isn't co-hosting "the wisps show" he helps plan and lead investigations and events the team is involved in. He has also worked on building relationships with other paranormal teams in Utah making him one of the more recognized investigators in the area. He is one of the go-to guys for the team and accepts every challenge that is thrown their way.
In his free time, Tim enjoys spending time with friends playing board games and going to the movies. He can also be seen attending 5k fun runs with other members of Wisps or checking out some of the best restaurants in town.